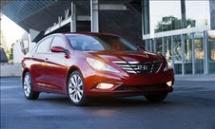 Overview:
This week we're looking at the 2011 Hyundai Sonata GLS Sedan. How can you NOT be impressed with Korean cars. This is the Japan of 30 years ago. In fact some Japanese cars are built there. Cost of labor in Japan has skyrocketed so it makes good business sense. I don't know if they have China build any as we do because they have never been friends.
Fuel economy is wonderful and the car overall has to be a winner in the future as well as now. Consider it gets better fuel economy than the Toyota Camry (to pick the top dog competition) and has a better warranty.
Opinion:
As I truck down the highway it always occurs to me that if Cal Trans could post average speed for the next several miles we could set our cruise controls for that and solve several problems. On the other hand if they wait (as they will if they even consider our driving safety) perhaps the newer Nav systems could do it for them. My contention is that if you did set the average speed there would be less accidents, less stress, fewer tickets and you would get there at exactly the same time… unless you can fly over the traffic.
A reminder one more time – don't speed because as one Sheriff Lieutenant told me, they are stepping up the quota for tickets big time. You know – job protection and a failing state government. Doubtful it will matter because when the states file bankruptcy cops will be cut with so many other useless services. Don't be too quick to tell me I'm wrong (as some cops have) – when's the last time a civil servant helped you? I can take care of myself thank you, which is what you have to do anyway because they are never around when you really need them. All the rest of the time they are writing $300-500 tickets that few can afford. The state would rather raise our taxes than cut expenses. Shame on them.
Handling & Performance:
Typical sedan but the turning radius is good. It struggles for power but it gets the job done.
Styling:
What a pretty car. I couldn't believe the price as it looks far more expensive. With a bit more insulation from road noise and weight and you wouldn't know it wasn't a Lexus at twice the money. Curb weight is only 3161 lbs., as compared to Toyota Camry for example at 500 lbs., heavier. I might be willing to give up a couple of mpg for the added weight to this Sonata. I'll have to think about that.
Fit and Finish:
Very good.
Cost:
Outstanding.
Conveniences and comfort:
A huge trunk is appreciated and overall it is quite roomy, which is what a large car is all about, but for the money it is also a pretty luxurious looking car that is comfortable as well.
Consumer Recommendation:
Don't hesitate. This is a great buy today and since the price will surely rise on all Korean cars it will hold its value and resale will be much better than other expensive cars. But this pricing won't last, because it is simple economics and supply and demand will push up the price.
Recognized Competition:
Sonata $19-27,000, Acura TSX $30-38,000, Buick LaCrosse $27-34,000, Buick Regal $26-29,000, Chevrolet Malibu $22-27,000, Ford Fusion $20-29,000, Ford Taurus $25-38,000, Honda Accord $21-32,000, Kia Optima $20-26,000, Mazda6 $20-29,000, Mitsubish Galant $22-24,000, Nissan Altima $20-30,000, Nissan Maxima $31-34,000, Subaru Legacy $20-31,000, Suzuki Kizashi $20-27,000, Toyota Camry $20-29,000, Volkswagen Jetta $15-24,000.
Good News:
Great price and great fuel economy along with great styling.
Bad News:
A little light weight and more road noise than necessary.
Standard Equipment:
2.4 liter 198 HP 4-cylinder engine with variable valve timing, 6-speed auto trans with Shifttronic, traction and stability controls, 4-wheel ABS disc brakes with brake assist and force distribution, front and side curtain airbags, tire pressure monitoring, 16" wheels, remote keyless entry with alarm, power heated mirrors, power windows & locks, cloth seating, 60/40 split folding rear seat, tilt & telescopic steering column and wheel mounted cruise, audio and phone controls, air conditioning, audio with CD/MP3 w/ 6-speakers, XM satellite, iPod, Aux., & USB ports, Bluetooth phone, trip computer, lane change signal assist.
Gas Stats:
$3.33/ Gal avg. Jan 16, 2011
for more information.
22 City and 35 Highway MPG
Pricing:
MSRP $20,195.
Your comments are welcomed. My e-mail is joe@autolove.com
Copyright © 2014 – An Automotive Love Affair.