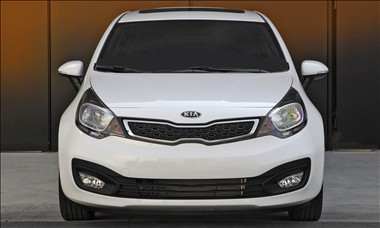 Overview: 
This week we're looking at the 2012 Kia Rio SX that is longer, lower and wider. It is powered by a new gasoline-direct injection 1.6-liter 4-cylinder engine with great fuel economy that is much needed today. It is mated to a standard 6-speed automatic transmission. It is a 'big' little car in that it is roomy for a small compact which by the way is true with all players in this class. It is amazing what can be done with a small car when it doesn't have to be luxurious and big.
And although there are applications where 'size matters'; when you must carry a lot of folks and things, but for the day to day driver efficiency and economy will be increasingly important. We're destined to see lean times so I suggest you prepare to survive the present wasteful spending.
Yes, this is a very basic segment of the market, and while not plush it is well appointed and simply fits a niche for the cost conscious traveler / commuter.
General Information: Parts from the US / Canada 4%, Korea 90%. It is assembled in Korea; Classification is Compact. Cars from Kia – Forte, Forte Koup, Optima, Optima Hybrid, Rio, Rio5, Sedona. Sorento, Soul and Sportage.
Opinion:
Boycott toll roads. California built the first 'freeway' – the 110 or what became known as the Pasadena freeway to Los Angeles in 1952. Until recently the state has resisted attempts to tax folks to use any highway or byway. Now there are some attempts to not only take our tax dollars through the purchase of gas they are slipping in a back door to take additional money to use the highways.
I simply refuse to use them and if we all resist the scheme to bilk us out of more of our hard earned money they will die on the vine of corruption. It is kind of like paying for public schools by all while if you truly want your kids to get a decent education you must also pay for private / church supported schools. We pay twice for the same product.
That's my opinion, what's yours?
Handling & Performance:
It has a good tight feel for a compact. It is zippy and easy handling and a generally great overall around town convenient car to own. Cars with lower horsepower generally have manual transmissions, but the 6-speed auto trans is well mated and therefore more responsive than I expected it to be.
Styling:
Highly sculpted, sloping shoulder lines and wedge-shaped exteriors and an aggressive look of other Kia models such as the Optima and Sportage.
Fit and Finish:
Good.
Cost:
The field is within a couple of thousand dollars and all are very affordable to buy and to operate.
Conveniences and comfort:
The basic needs are met and much more with an amazing array of modern gadgets in this class. I particularly appreciate hill assist. Basic is a relative term and although I miss climate control I find basic air conditioning like manual seats is something you set and forget. . . so I can live without those. It doesn't have 'memory' settings for every occasion but I find I never use those things anyway, know what I mean?
Consumer Recommendation:
The competition is tough and capable. Toyota Yaris and the Fiat 500 made an impression on me when I tested them recently. All of the Korean contenders have been earning the respect of consumers. Kia is owned by Hyundai and they are a company worth considering.
I wasn't crazy about the Scion models, and although the Smart is big in Europe where streets are narrow and parking is at a premium, it hasn't gone over well in the US.
Recognized Competition:
Kia Rio $18,000, Chevrolet Aveo $12,000, Chevrolet Sonic $14,000, Fiat 500 $16,000, Ford Fiesta $16,000, Honda Fit $15,000, Hyundai Accent $14,000, Hyundai Veloster $17,000, Mazda 2 $15,000, Nissan Versa $15,000, Scion iQ $15,000, Scion xB $16,000, Scion xD $15,000, Smart fortwo $12,000, Suzuki SX4 Sport $17,000, Toyota Yaris $17,000.
Good News:
My kinda fuel economy, good consumer reviews and an all around efficient commuter.
Bad News:
Lightweight as you'd expect in the class.
Standard Equipment:
1.6 liter 138 hp 4-cylinder engine, 6 speed automatic trans, electric power steering, 17" alloy wheels, front, side and side curtain airbags, LATCH child system, power  ABS brake system, traction and stability control and management systems, hill assist, air conditioning, power windows and locks, remote keyless entry, audio with CD/MP3 and SIRIUS satellite, USB & Auxiliary jacks, manual adjustable driver's seat, 60/40 split folding rear seats, cruise control, Bluetooth, tilt & telescopic steering column, leather wrapped steering wheel and gearshift knob, steering wheel controls, cargo cover, auto headlights, fog lights and heated power folding mirrors.
Gas Stats:
$3.73/ Gal avg. February 10, 2012
for more information.
30 City and 40 Highway MPG
Pricing:
MSRP $17,700.
Your comments are welcomed. My e-mail is joe@autolove.com
Copyright © 2012 – An Automotive Love Affair
Your comments are welcomed. My e-mail is joe@autolove.com
Copyright © 2014 – An Automotive Love Affair.