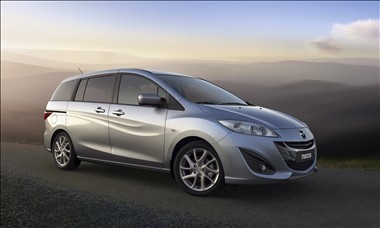 Overview: 
This week we're looking at the 2012 Mazda 5 Sport through the eyes of colleague Vince Bodiford.
Vince says – The Mazda5 is a unique blend of different automotive ideas – it's part minivan, part SUV and part sedan. The resulting package is what Mazda calls a "sport activity vehicle," or SAV, that we found to be abundantly useful and fun to drive. It doesn't fit into a mold, it can't be defined by a segment. It suits a family, but thrives in an active lifestyle setting. One could say it's a vehicle right where everything else isn't.
The 2012 Mazda5 incorporates motifs from Mazda's "flow" design language which they say is inspired by the beauty of nature. The outside styling is consistent with the Mazda design language. The profile is low and long, with a high beltline, Mazda signature front grille, and a large greenhouse with lots of glass. The coolest feature of the styling is a curvy "wave" running the length of the side that is pressed into the sheet metal. It's an interesting look that is a break from the cookie-cutter minivans of yesterday.
Mazda design carries over nicely into the interior, which is large and very user-friendly. The driver-oriented design of the interior positions the peak of the meter hood as the tall point, with all lines flowing from there to comfortably wrap around the driver. The instrument panel flows from the cockpit to the center panel and on to the passenger-side dashboard in a liquid effect. The same flow continues on through the lines of the seat pattern, connecting seamlessly with the second and third row seats to create a strong sense of unity throughout the interior.
The MAZDA5 features "theater-style" seating. The stepped floor means each row is mounted a little higher than the one in front to improve visibility for all. The driver, too, benefits from excellent visibility, improving primary safety as well as making driving more enjoyable.
But good design would be lost if it were not for content and comfort – and the Mazda5 scores high points on both. Bring your lifestyle along for the ride, with available Bluetooth and iPod connectivity, GPS mapping, and a long list of accessories. All the seats have a "captain's chair" feel and are comfortable, removable, and adjustable.
The base engine (tested) is a 157-hp, 2.5L DOHC 16-valve 4-cylinder engine with variable valve timing (VVT) and a choice of 6-speed manual or 5-speed Sport automatic transmission. This combination provides ample and linear power, and easily delivers up to 28-mpg – which is remarkable for a true six-seater.
The chassis is sturdy, quiet and delivers and excellent ride. Handling is crisp, steering is very accurate with a light steering wheel feel. Braking is achieved through 4-wheel anti-locking disc brakes, with available traction control.
For this test, we drove the 5Sport all over the city, and also took it for a short road test out of town. We began to think of the car as having a split personality – high-density urban people-mover on one hand, and comfortable family touring sedan on the other. And since most of us ask a lot from our cars, the Mazda5 seems well equipped to do many jobs for us, and do them well.
The Mazda5 is available in three trim levels – the entry-level Sport, Touring and top-grade Grand Touring. All three trim levels offer the versatility, features and style that consumers in the market for a multi-activity vehicle want, at an affordable price.
This "large" small car is also affordable. Pricing starts at $19,345 for the Sport model with manual transmission. Factory Limited Warranty is 3-years/36,000 miles and 5-year/60,000 mile powertrain warranty. There are no exact rivals for the model, but the nearest comparisons are the Honda CR-V and the Toyota RAV-4.
Overall, we like the Mazda5. With sporty performance, pure athletic head-turning design and a roomy interior, the Mazda5 defies category labels while being quite unexpected.
Headquartered in Irvine, Calif., many Mazda cars are styled in Southern California, and sold through over 900 dealers. Last year, Mazda celebrated its 40th Anniversary in the US. For more information, see you local Mazda dealer, or visit MazdaUSA.com
Recognized Competition:
Mazda 5 $19,000, Chevrolet HHR $19,000, Dodge Nitro $22,000, Ford Transit Connect $22,000, Honda Element $21,000, Honda Fit $18,000, Jeep Patriot $16,000, Mitsubishi Outlander $22,000, Nissan Rogue $21,000, Subaru Forester $20,000, Toyota Matrix $19,000, Volkswagen Jetta SportWagen $20,000.
Gas Stats:
$3.81/ Gal avg. Oct 22, 2011
for more information.
21 City and 28 Highway MPG
Pricing:
MSRP $19,345.
Your comments are welcomed. My e-mail is joe@autolove.com
Copyright © 2011 – An Automotive Love Affair
Your comments are welcomed. My e-mail is joe@autolove.com
Copyright © 2014 – An Automotive Love Affair.