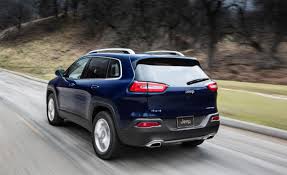 Overview:
This week we're reviewing the 2015 Jeep Cherokee Limited FWD SUV. The automotive industry is ever changing and most of it for the good of the company and the industry.
Jeep is a brand of American automobiles that is a division of Chrysler Group LLC, a wholly owned subsidiary of Italian multinational automaker Fiat S.p.A. Today it is referred to as FCA US LLC. The Chrysler brand is also joined by Dodge, Jeep and Ram. The trail of changes gets a little foggy as Chrysler has been bought and sold in recent years. You may recall in 1998 Chrysler merged with Daimler Benz to form DaimlerChrysler and I think it was the best thing that ever happened to one of the oldest big three American auto makers. Daimler moved the bar of quality up and Chrysler benefitted greatly and thus consumers. Those consumers fell in love with the brand all over again. That improvement has spilled over to all related brands like this Jeep.
A comment this morning from friend and neighbor, Carol, was that the Cherokee now looks like every other SUV and no longer looks like a Jeep. She got me thinking and she is spot on. It is true that other than the traditional Jeep grill Cherokee looks like any other SUV out there today. Some will like that while others, particularly Jeep devotees, will not appreciate the change. I'm guessing the change is to please the majority of consumers who, at the end of the day, dictate the look of our cars. So we get what we endorse with our dollars.
However, Patriot and Wrangler models have retained the Jeep look and Jeep lovers will appreciate that.
General Information: It is assembled in Toledo, Ohio, USA. Classification is: Small SUV. Cars from Chrysler: Chrysler 200, 300 and Town and Country. Models of Jeep: Patriot, Wrangler, Grand Cherokee, Cherokee, Wrangler Unlimited and Compass.
Handling & Performance:
This Jeep is a delight to drive. It has a solid feel and confident ride. Jeep has always been known for its' off road performance but now you have a choice to have a models like Cherokee, Grand Cherokee or Compass for a more elegant look and feel. I have tested older models off road at Jeep Jamboree venues. I was impressed with what they can do off road. Today, however, it looks as though the company is ever more interested in looking good ON-Road as well as off. So some of the models available are still Jeeps. We'll see where that goes in the future.
The power plant is a 4-cylinder engine mated to a 9-speed automatic transmission. A V6 is optional. I found the 4-cylinder more than adequate and it does it while delivering 31 mpg highway fuel economy. Nice.
One final note about performance and handling. I have come to appreciate the Lane Assist feature. We all are subject to distraction as hard as we try not to allow this dangerous driving reality. Lane assist helps you to stay aware and alert while on the highway. If you drift or attempt to change lanes without activating your turn signal the car will resist crossing to another lane.
Styling:
Jeep continues to retain its historic look. To me a few upscale models will not destroy the image that is out of doors active people. Car companies are into making money like any business and the new look must have been necessary to also appeal to more potential consumers.
Fit and Finish:
Early cars of half a century ago were not the best and that was even more obvious in Chrysler products of those days. The company has matured and benefited from Daimler and hopefully Fiat as well in the future. I really like the first class interior on this Jeep.
Cost:
Competitively priced with cars in class.
Conveniences and comfort:
Super comfortable ride and all the bells and whistles are available for a price. My test vehicle had options that added $4,500 to the MSRP of $28,000.
A few of the option I love and wouldn't go without include keyless operation with push button start and for those in cold climate the Remote Start feature is wonderful. It allows you to start the car from the warmth and comfort of your home so the car is warmed up and cozy when you get in. The Steering Wheel and seat can then be warm when you get in.
Uconnect® Systems keep you connected, while maintaining your focus on the road. See this link for all the details too numerous to name here: http://driveuconnect.com
Consumer Recommendation:
For me the options are worth the price of admission. Things like Adaptive (smart) cruise, blind spot warning, rain sensing wipers and lane sensing departure warning are all great technological wonders that I'd opt to have.
Recognized Competition:
Jeep Cherokee $24-31,000, Honda CR-V $24-32,000, GMC Terrain $27-37,000, Mazda CX-5 $22-29,000, Nissan Rogue $23-30,000, Buick Encore $24-31,000, Kia Sportage $22-30,000, Subaru XV Crosstrek $22-28,000, Volkswagen Tiguan $26-39,000, Chevrolet Equinox $25-33,000, Hyundai Tucson $22-28,000.
Good News:
Competitive pricing, really comfortable, well appointed, first class look and feel and great fuel economy.
Bad News:
n/a
Standard Equipment:
2.4 liter inline 4-cylinder engine, 9-speed automatic transmission, 18" polished aluminum wheels, LED daytime running lights and tail lamps, heated power mirrors, windshild wiper de icer, front airbags front and rear side and side curtain airbags and front knee airbags, 4-wheel ABS disc brakes with brake assist, electronic roll mitigation, traction control, brake stability control, hill start assist, remote keyless entry with push button start, remote start, dual zone climate control, integrated voice command with Bluetooth, Uconnect radio with Sirius XM, audio jack inputs, heated front seats, power 8-way driver seat, heated leather wrapped steering wheel with mounted controls on tilt and telescopic column, 7" color display, power windows and locks and Jeep cargo management system.
Gas Stats:
$2.68 / Gal avg. December 19, 2014
www.fueleconomy.gov
for more information.
22 City and 31 Highway MPG
Pricing:
MSRP $28,195.
Your comments are welcomed. My e-mail is joe@autolove.com
Copyright © 2014 – An Automotive Love Affair.